Clear overview of the fleet
Ther Shore Manager is an additional software to WRH enabling the central monitoring of all vessels in the shore based office. Data of work hours can be exported from each vessel in individual intervals, can be transferred by email or by automatic file transfer to the shorebased office and can be imported into the Shore Manager. Different levels of cumulation are available there:
fleet
vessel
seafarer
working day
The Shore Manager shows you  in overviews the average working hours per day and the number of rest non-conformities. You can move around the different views to the data for each seafarer and see exact the same pages that are visible on board. In the Day view, you can see each hour worked and applied exceptions and comments entered. A complementary statistics show more figures and overtime.
Fleet overview
In the Shore Manager you can organize your fleet and group vessels as requested, e.g. by type, owner, etc. You get a quick overview of the rest period compliance and the workload of all vessels.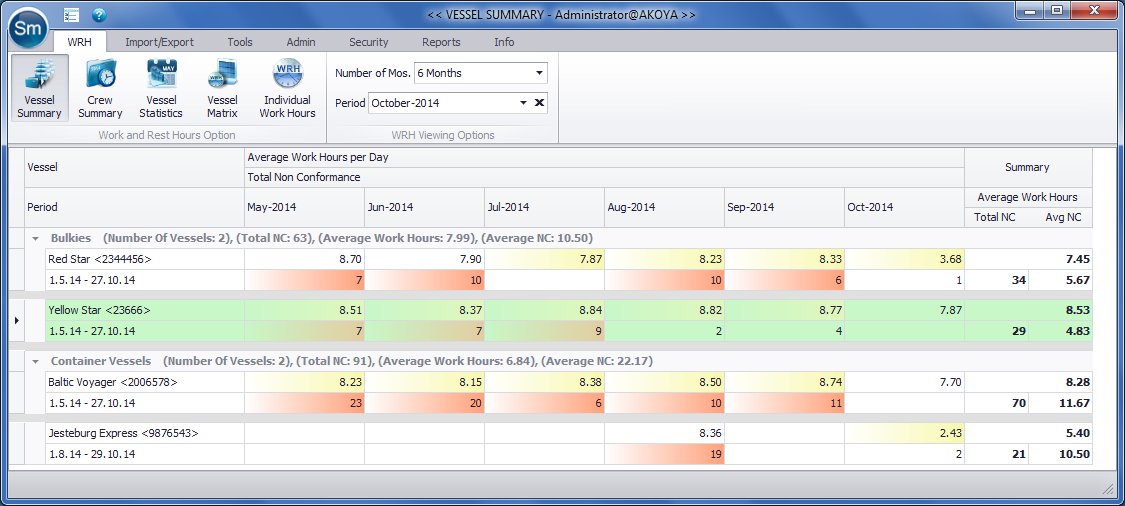 Crew of a vessel
With the Crew Summary the Shore Manager provides an overview of all crew members of a selected vessel. Here you see the average working hours and the number of rest hour violations. These fields can be marked in color if predefined limits are exceeded.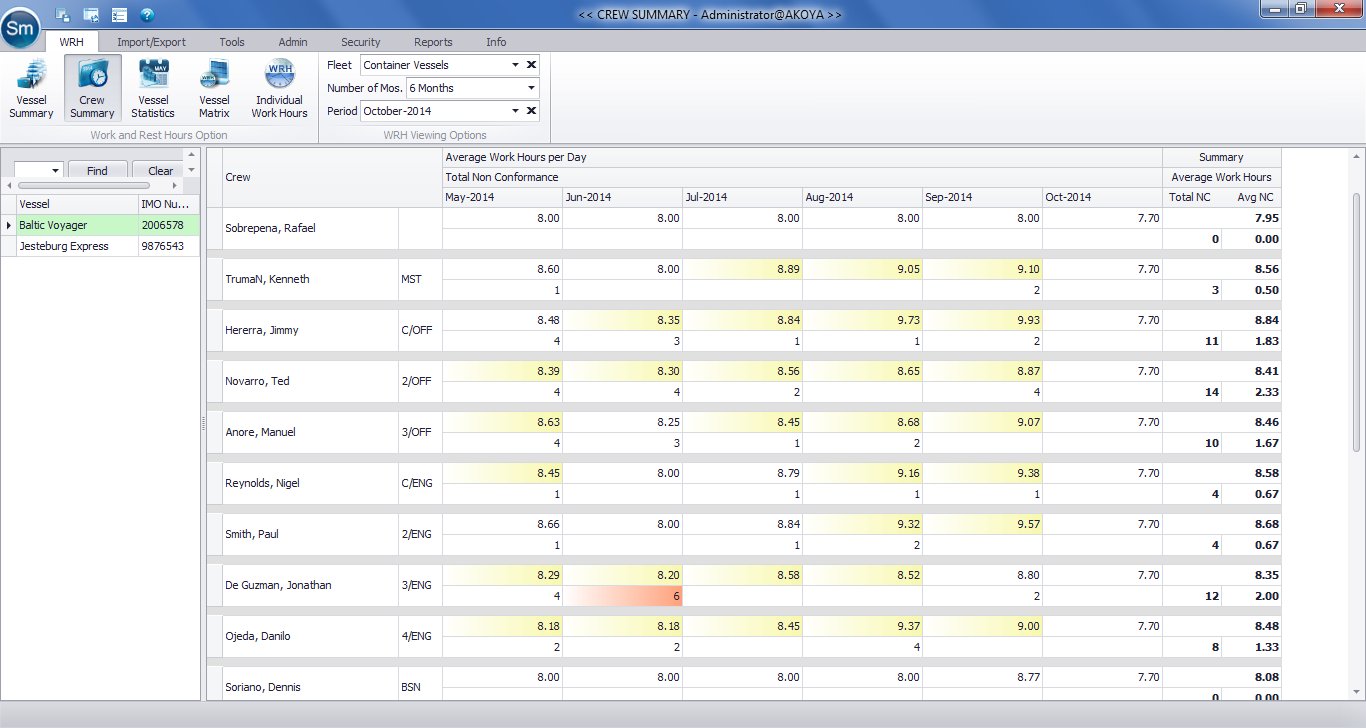 Individual data of a seafarer
In this view the Shore Manager shows the monthly data of a selected seafarer of a particular vessel. In the left column, the Shore Manager shows seafarers having non-conformities in red. The right part of the page corresponds to the respective page of the ship version of WRH. It marks days with deviations with a red exclamation mark, colored safety-related work yellow and marks days when the ship's clock was set.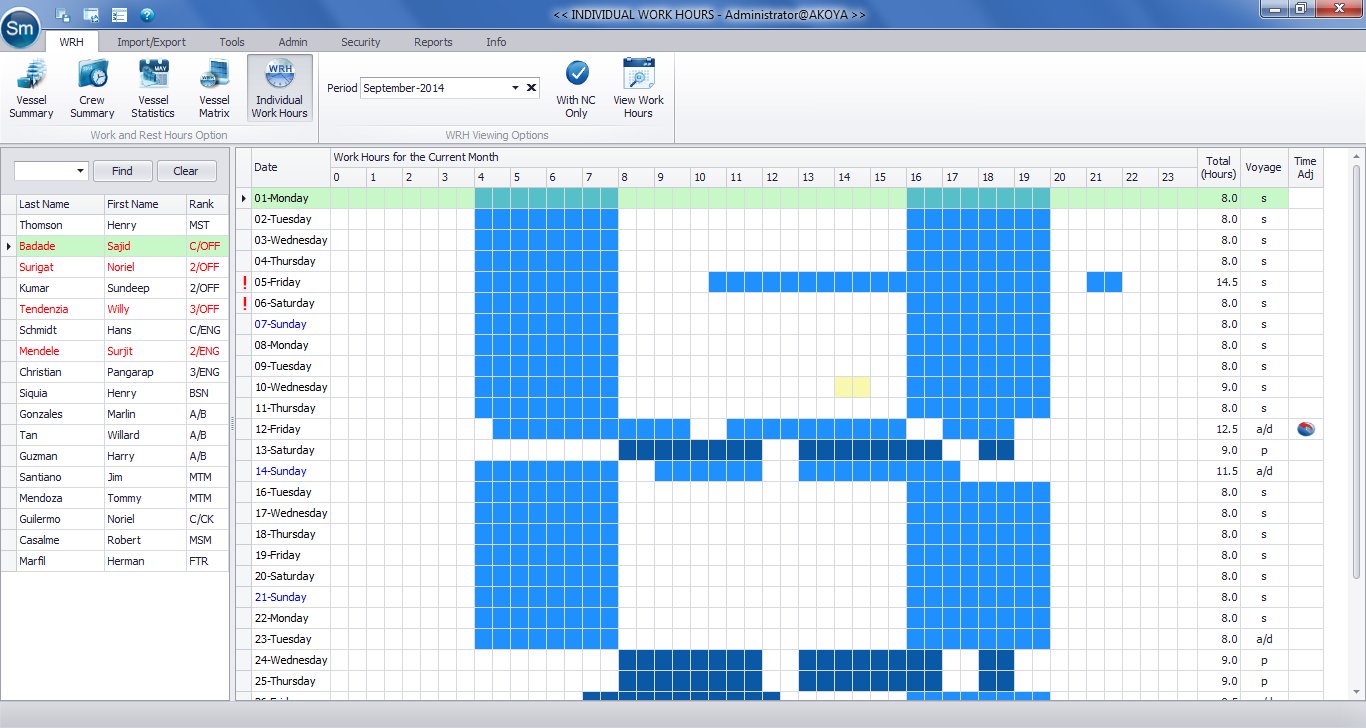 Convenient Data Transmission
Depending on the technical capabilities of your vesels, data transfer between ship and office can be done automatically or manually.
In the automatic

version

data of

WRH

on board

are exported

at fixed

intervals as specified by you

(eg,

monthly, weekly

, daily)

and stored in a

very

small file

in

a specified

directory.

Your satellite

communications service

transfers this

transfer

file to your server

in the

shore office

and

stores them

in a defined

directory

.

The

Shore

Manager

checks regularly

this directory and

processes the

transfer

files.

For manual

transmission

WRH

offers

a menu item

to export data

.

The

generated file

can be sent as

an email attachment

to the shore office

and

is imported

manually

or automatically

into the

Shore

Manager.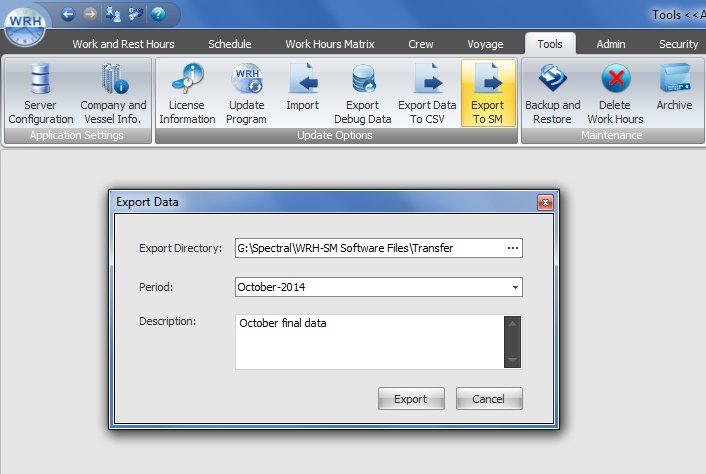 More information
Please contact us to get more information about WRH and Shore Manager. We are happy to provide you with a free of charge version for testing.