Simplify the administration
Monitoring of work and rest hours is an additional administrative burden on board a seagoing vessel.
WRH supports the ship's command by an efficient workflow:

Templates
For each rank aboard a template can be established. There the ship's command establishes the general working hours at sea and during port stay: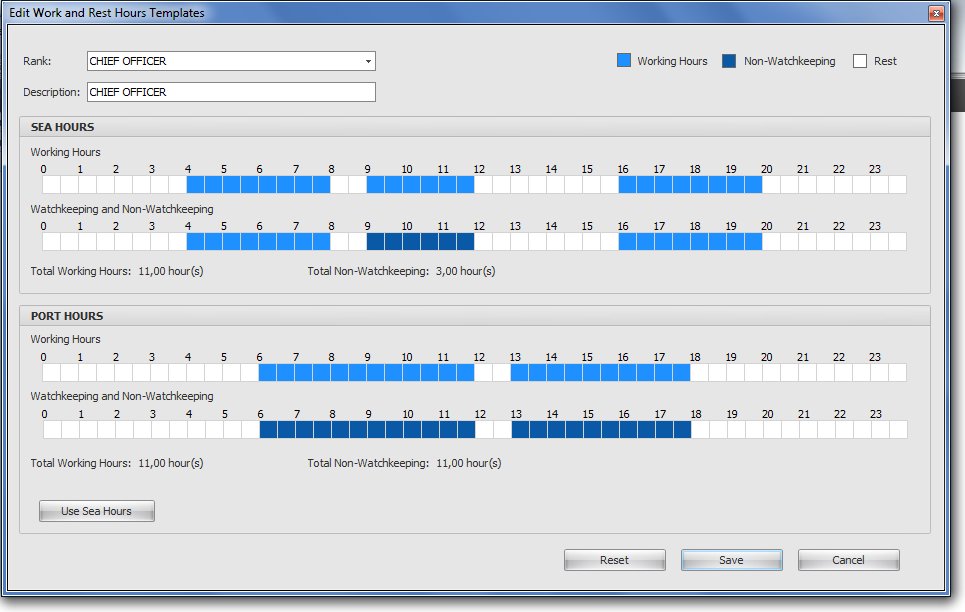 This overview shows the workimg hours of all templates established: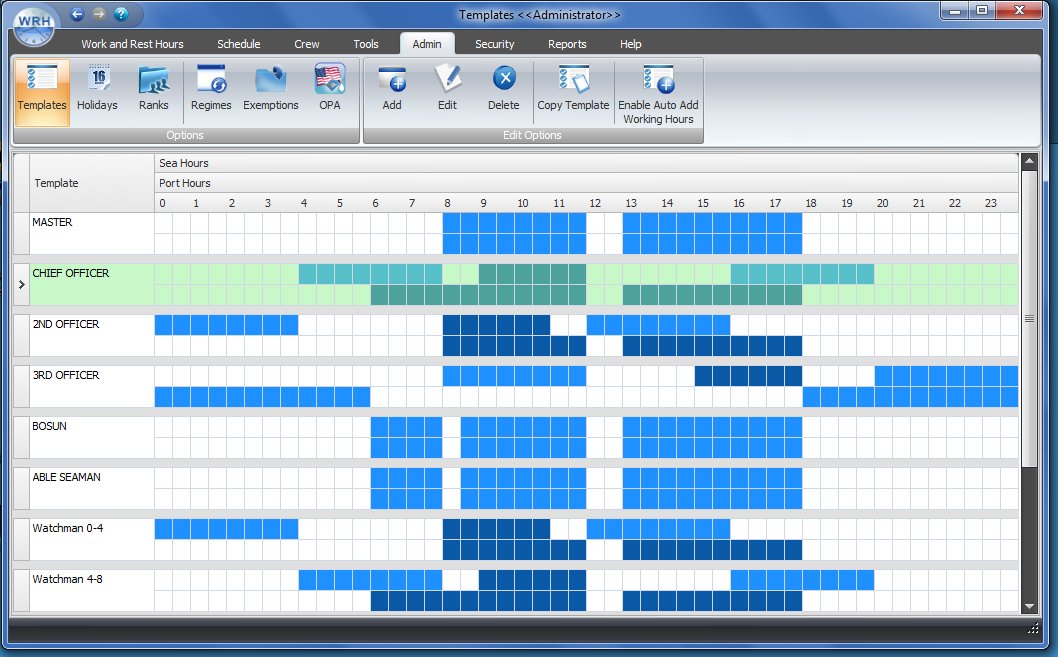 Schedule
Good planning is crucial.
The department head can establish for hs crew a work pre-planning based on the templates. First, the crew members subject to planning are being selected.  The list can be grouped by days or by persons. Here you can see a filled in planning for one week grouped by persons: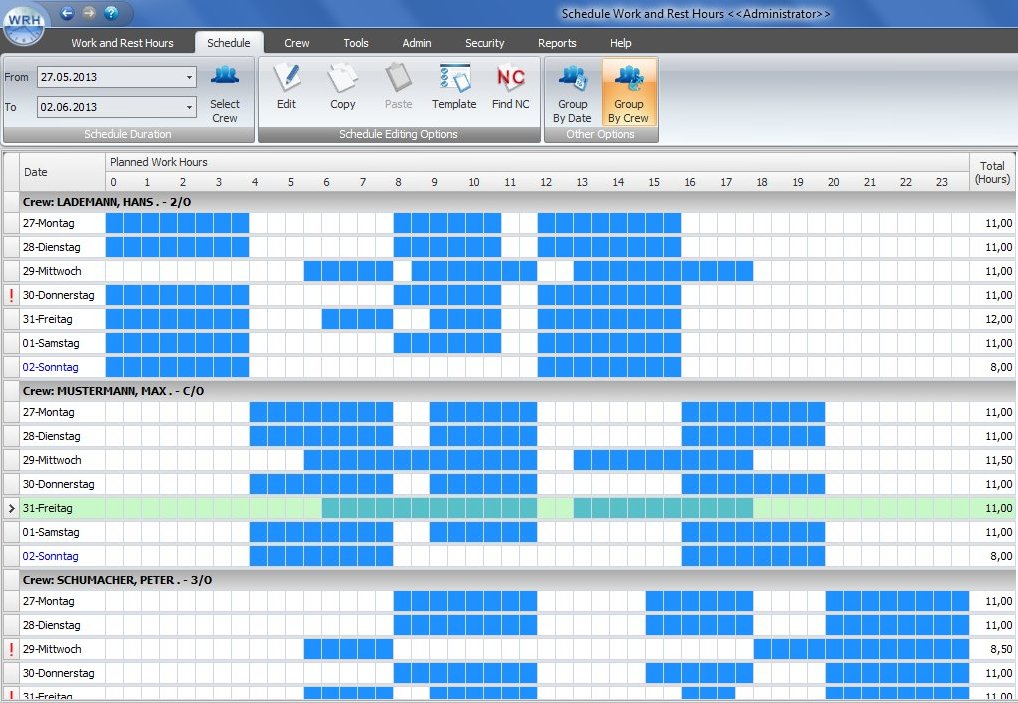 For entring a planning you select the dayy (or several days) by marking it with the mouse pointer. By clicking the Tenplate button in the menu bar the working hours can be copied from the template to the schedule: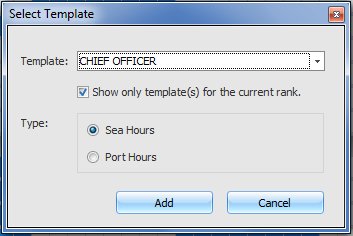 The working hours copied by this way can be adjusted individually, e.g. due to shifted port arrival or departure times: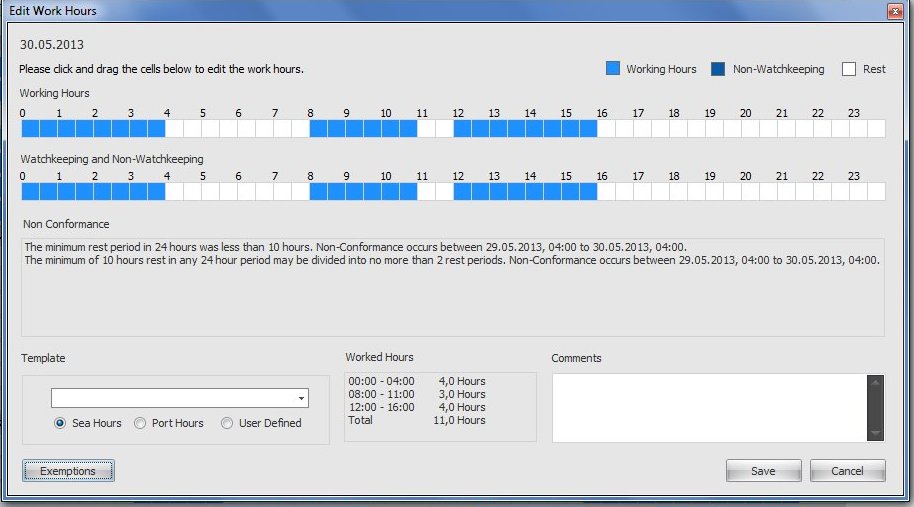 The above shown example for the 2nd mate shows a violation of the rest regulations the 30. May. This is being explained in the data entry window (detailed description in the Non Conformance field) as well as in the monthly schedule (red exclamation mark). 
By this feature WRH assists to avoid problems already in the work pre-planning. 
Data entry of working hours
In order to ease the workload, WRH can be set to automatically use the scheduled working hours to the actual working time records. Based on these data the actual working hours can be adjusted in order to consider shifting, e.g. by delays.

The working hours of past days and the current day are marked blue (here Tuesday, 21.). Future working days taken from the schedule are shown black. By clicking the respective day the working hours can be adjusted easily: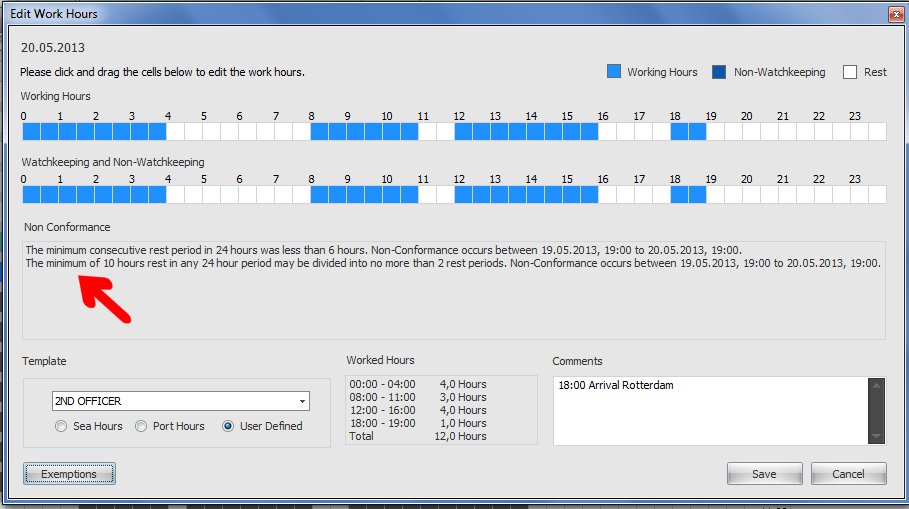 In this example the rest hours requirements are not met. WRH explains the violation in detail in the field Non Conformance. This analysis is done in the very moment the working hours are marked in the time line. You now have the option to enter comments. Read more about work and rest hour regulations and related deficiencies on the page Regulations.