WRH is a user-friendly application to monitor, record and manage work and rest hour rules at sea.

Shipping is a 24/7 industry with ships' crews having to work around the clock to operate the ship both at sea and in port.

It is a fact that long work hours and short rest periods may cause fatigue which can result in progressive decline of performance, loss of energy and-even slowed movements and reactions.With the entry of the 2010 Manila amendments to the STCW Convention and the ratification of the 2006 Maritime Labour Convention (MLC 2006), Port State Control will invariably pay increasing attention to ensuring compliance with the requirements for Seafarers rest hours.

The Work and Rest Hours application (WRH) is designed to monitor and prevent eventual non-conformance with STCW and MLC rest hours regimes and produces reports in accordance with the STOW standard that can be presented to Port State Control.

Some exemptions to rest hour regimes are allowed under certain conditions and National administrations are also allowed to implement national rest hour exemptions. WRH, produced and maintained by Spectral Technologies Inc., can apply existing exemptions, which can also be further adapted to cater to future national exemption rules, as and when circumstances dictate WRH can also be set to monitor rest hours in compliance with OPA 90.

WRH is easy to set up and crew work hours are added by either the crews themselves or by their supervisors in a user- friendly graphic environment. WRH will promptly and in real time warn users if any non-conformance is occurring.
KEY FEATURES of WRH
Monitor compliance with rules for work and rest hours in accordance with STCW Code Section A-VIIl/1 Fitness for duty, MLC 2006 Regulation 2.3 Hours of work and hours of rest and OPA9O
Three levels of users - Administrator, Crew Supervisor & Crew
Facility to add and edit ranks
Facility to add and edit public holidays
Facility to add and edit crew
Facility to add and edit work hour templates
Facility to add and edit work hours
Built in monitoring of rest hour violations
Facility to add and edit future work hours
Six built in reports
Can be networked
Built-in easy to use back up system
All reports can be generated as .pdf , .xls and .rtf files
Work and Rest Hours Entry
Work hours are easily entered with a mouse and can be copied direct from the pre-prepared templates or added manually.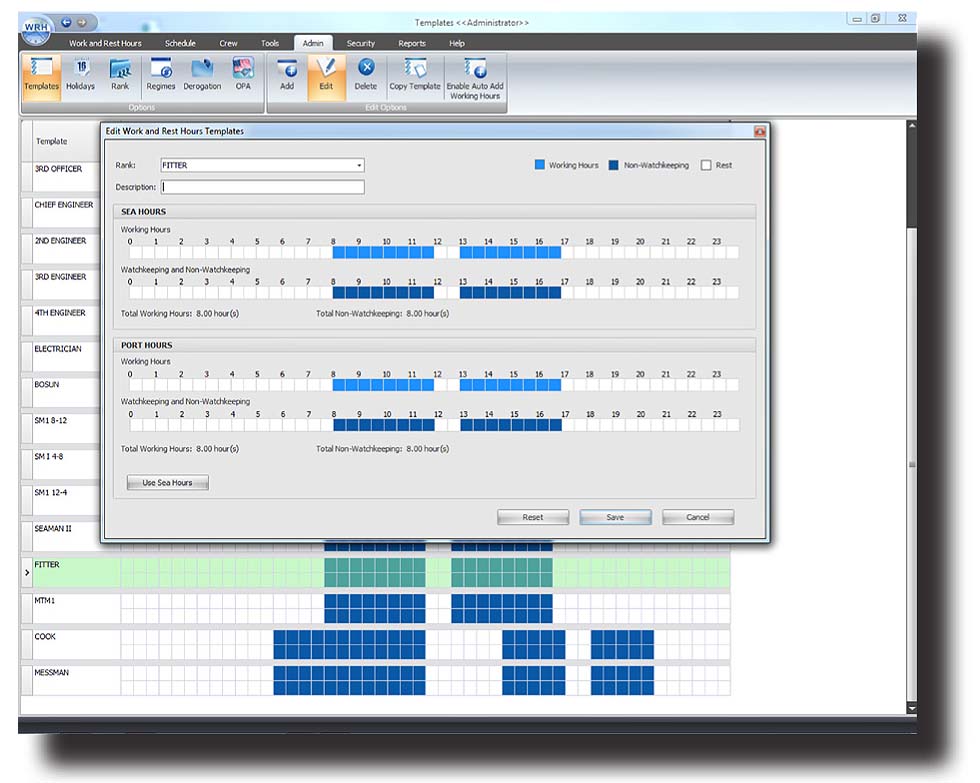 Templates
Work hour templates are set up and assigned to ranks, the work hours in the templates are used to enter work hours for the crew onboard and to produce the Table of Shipboard Working Arrangements as per IMO model.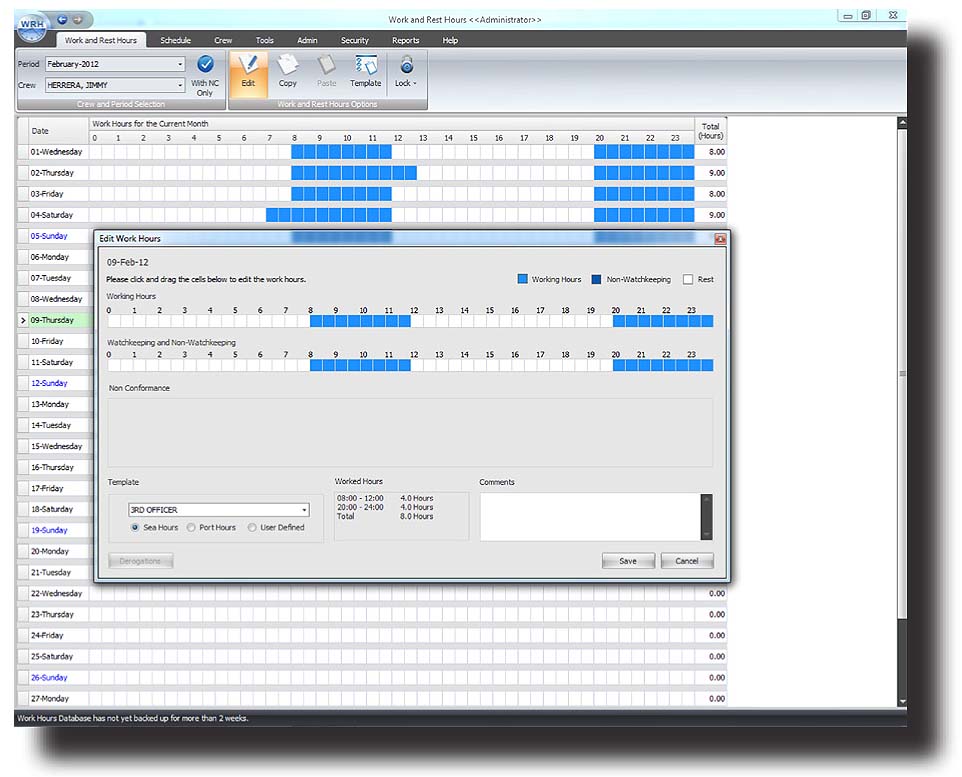 Schedules
WRH has a special interface page to plan and enter future work hours and a report can also be printed listing planned future work for selected groups of crews.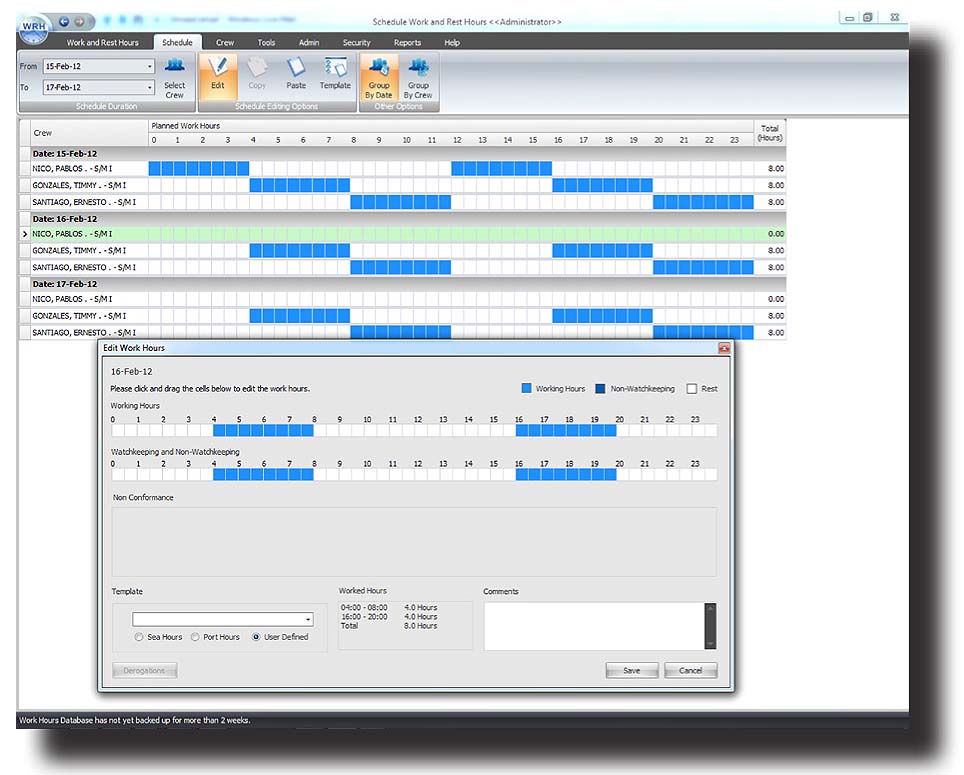 Reports
WRH has six built in reports which include in particular the Record of Hours of Work of Seafarers as per IMO model and further reports e.g. Crew Monthly Work Hours and a Non-Conformance Report. All reports can be output as .rtf, .pdf and .xls files.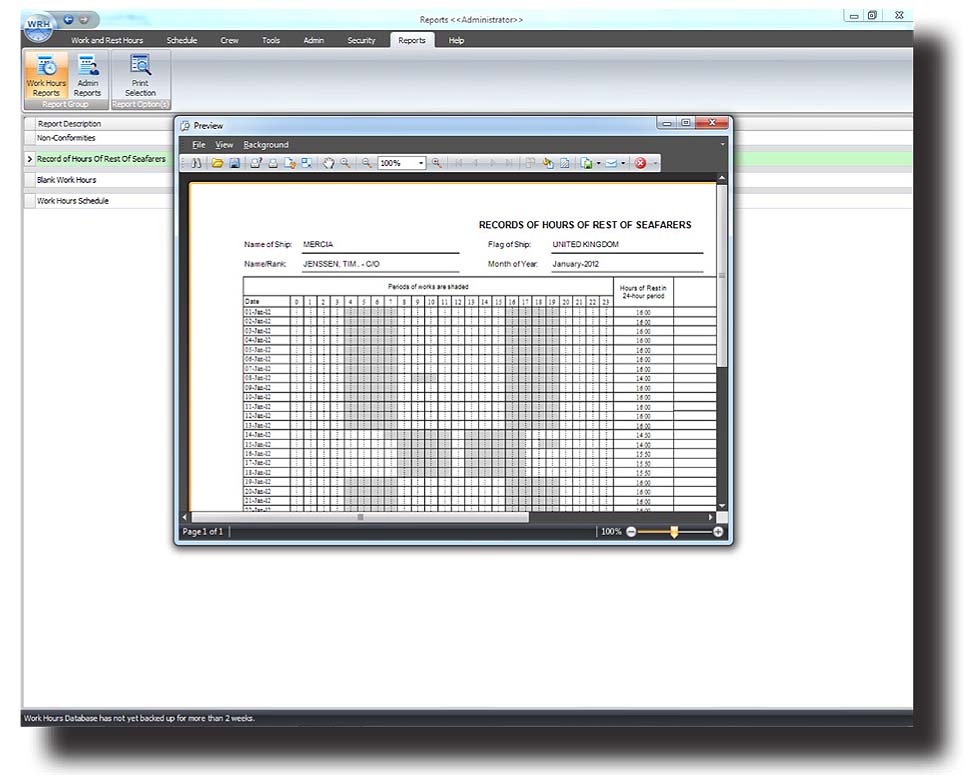 System Requirements
WRH requires the following:
Minimum 1 GB of RAM, 2GB recommended
MS Windows 7 or MS Windows XP with service pack 3
Core II Duo processor or higher
License
WRH is offered by Spectral Technologies Inc. with a running license. Decide for a single workstation license or a network license for several computers on board of one vessel using the same data base. The competitive license fees are payable on an annual basis. For this you receive continuous updating of the software as per change of legal requirements and software improvement. By this license model you avoid investments and guarantee sustainability and continuous compliance.
Please get in contact with us for further questions.
Prices start at USD 120 per year.
Please contact us for a quotation.
Download
Brochure    (PDF file  3.5 MB)